WHY ?
Sulfites' approach is based on the research of the materials, the construction of the product, and its functionalities. Sulfites is a word that came up in a talk with friends. Why ? None of us can remember. I choose to stick with it for years as a nickname before it became the brand I wanted to build around the gear I make. I opened an online store to sell technical fabrics and was asked to create a lot of gear for bikepacking : framebags, saddle bags, top tube pouches… When I realized I spent more time sewing than selling raw fabrics, I decided to make the change. Today, I want to design simple gear for the everyday life. With a focus on quality, I use technical materials and try to offer something different with colours and personalization. 
WHO ?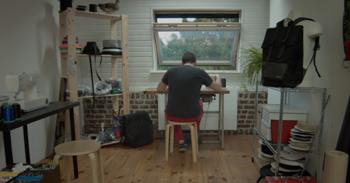 My name is Anthony and I am based in Lille, France.
WHAT ?
Search. Divert. Design. Select.
Some materials. Some trans.
Translucent. Transparent. Phosphorescent. Hybrid. Efficient.
Cut. Articulate. Assemble. Sew. Weld.
Test.
Understand. Correct. Restart. Reinterpret.
Cut again. Articulate better. Adjust the details.
Go Out.